Congratulations to our team members, Amanda Parsons & John Billheimer, Jr. who are celebrating 10 years with MAS! Both Amanda and John Jr. have played a significant role on our team since they began their careers with MAS back in 2011.  They have worked hard to accomplish such a milestone, and MAS truly appreciates their dedication and service throughout the past decade to not only our customers, but our team as well. It has been a honor to see you grow both personally and professionally and we are confident you will continue to do great things. The MAS Family is very proud of you, and we wish you nothing but continued success for many years to come. Congratulations and Cheers to 10 years!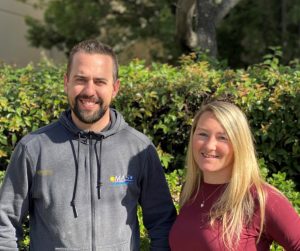 Amanda Parsons & John Billheimer, Jr.
The management and staff here at MAS recognizes and celebrates Craig T. for his 30 years of continuous service. As a member of the MAS technical staff, Craig has been an inspiration, a coach, and a mentor to many of our best technicians. Craig has timelessly supported the MAS customer family, and his dedication and professionalism have been a true pleasure and asset. Congratulations Craig!
John Billheimer and Craig T